Am Samstag, dem 14. Jänner ging ein sehr frühes musikalisches Highlight des Liebocher Kulturjahres über die Bühne. Die Austrian Brass Band, ein Blechblas- und Schlagwerk-Ensemble der Kunstuniversität Graz, stattete der Veranstaltungshalle in Lieboch einen Besuch ab und bot ein Konzert, das so viel mehr war als "nur" eine Musikveranstaltung. Zahlreiche Besucher folgten der Einladung der Gemeinde Lieboch und des Musikvereins Lieboch und erlebten einen tollen Konzertabend. Charmant, informativ und mit Wortwitz begleitete Moderatorin Magdalena Karner die Zuhörer durch den Konzertabend.
Den Auftakt bildete das Stück "Jubilee Overture" von Philipp Sparke, welches mit einer Fanfare beginnt und dann in einen besinnlichen Choral wechselt, der sich dann wiederum zu einer Fanfare steigert.
Das zweite Stück "Guardian of my soul" von Darren Shaw war vor allem für die Mitglieder des Musikvereins Lieboch besonders schön anzuhören, da wir dies bei unserem Pop-Up Konzerten im Herbst selbst darbieten durften und es einfach zum Wohlfühlen verleitet.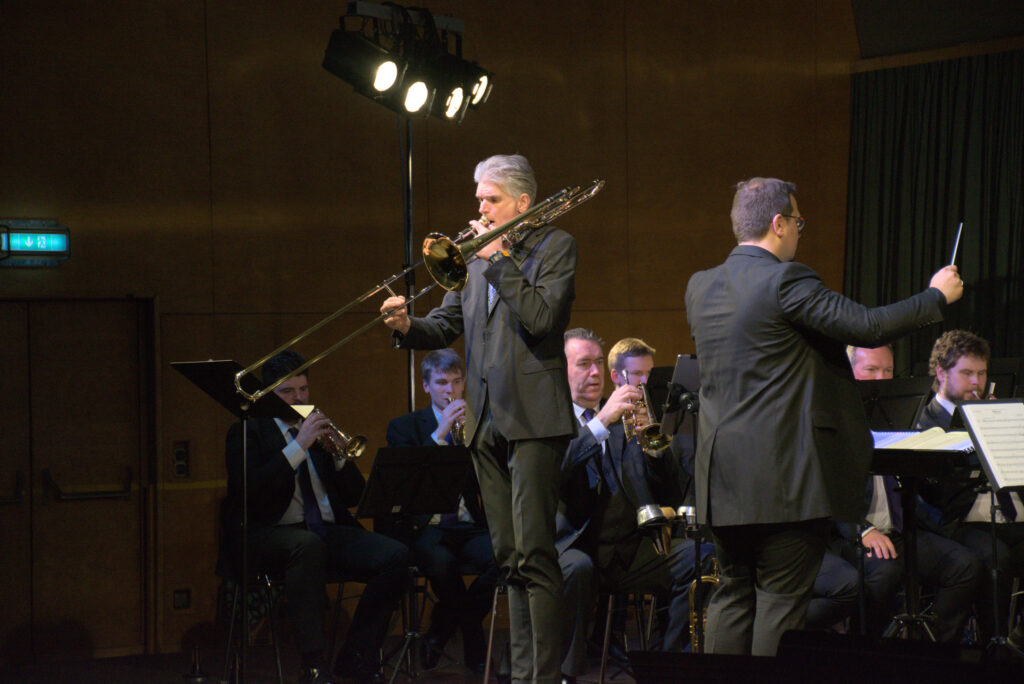 Für Begeisterung beim Publikum sorgten auch die drei Solo-Werke beginnend mit "Colors" dargeboten von Prof. Thomas Eibinger an der Posaune, "Children of sanchez" dargeboten am Flügelhorn von Prof. Uwe Köller, Gründer der Austrian Brass Band, und "Bolivar" zum Besten gegeben von Prof. Thomas Eibinger an der Posaune.
Mit dem abschließenden Show-Stück "Nordic Polska" hat die ABB einen bleibenden Eindruck beim Publikum hinterlassen. Es war nicht nur hörens-, sondern auch sehenswert. Nicht nur, dass sich Dirigent Stefan Karner dafür ganz untypisch beim Schlagwerk platzierte – auch die Musiker:innen haben sich hierfür eine besondere Choreografie einfallen lassen. Schaut euch am besten selbst das Video an, um euch einen Eindruck zu verschaffen.
Mit den beiden Stücken "Temple 125" und "Malaguena" als Zugabe bedankte sich die Austrian Brass Band für den Applaus und freut sich schon auf das nächste Konzert.
Hier einige Ausschnitte aus dem Konzertabend: